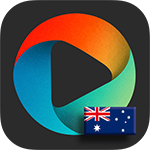 TV Apps
Australian TV Guide App for iPhone, iPad and Android
Introducing On TV Tonight's official TV listings guide for iPhone, iPad and Android. Produced by eBroadcast, Australia's most trusted TV resource, On TV Tonight's 100% Free TV guide app is now available in Australia on the App Store, Google Play and the Amazon Appstore.
Simply enter your location to find out what's on TV! You can also search the guide to find out when your favourite TV show is on this week and add your most watched shows to a favourites list.
Viewers can browse the listings of every channel, in every region of the Australia. If a TV channel is not often watched, it can be removed from the schedule instantly and put back on if desired.
Clear and easy-to-use interface
All features are 100% free to use
Look up instantly what's on TV right now, tonight or later this week
Includes TV listings for every channel on Free TV and Foxtel
Save favourites to your list and get notified before it airs
Use your existing OnTVTonight.com log-in settings, or create a brand new account
Never miss a TV show again!
Now available for Android devices at Google Play and at the Amazon Appstore
Google Play and the Google Play logo are trademarks of Google LLC.